The Band is always looking for new pipers and drummers and prospective members are welcome at any Band practice.
In order to advance to practice in the circle with the Band, new members are required to pass the minimum parade repertoire (ACPD settings) on their instrument:
• The Flower of Scotland
• Amazing Grace
• The High Road to Gairloch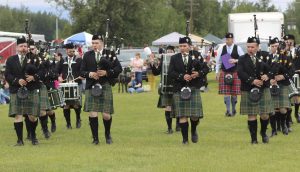 • The Brown-Haired Maiden
• The Pikeman's March
• The Minstrel Boy
• Wearin' O' The Green
• Balmoral
• Castle Dangerous
• The Green Hills of Tyrol
• When the Battle is O'er
• The Rowan Tree
• Wings
• Scotland the Brave
Interested players should contact the Band, and regularly come to weekly Band practice in order to get the full repertoire, including ACPD settings for the minimum set of tunes above.
To compete with the Band, players must achieve proficiency and comfort with both their instrument and the competition tunes. Please contact the Pipe Major for these tune settings.
We are again holding LIVE, in-person lessons and Band Practice on Fridays at Our Redeemer Lutheran Church in Chugiak. If you are interested in starting lessons, or if you are interested in joining the Band, please contact Pipe Major Richard Christiansen via email at jungstensgericht@yahoo.com or by phone at 907-315-9838. 
Address for weekly Lessons, Friday evenings 5:30-6:30pm, with Band Practice to follow 6:30-9pm:
Our Redeemer Lutheran Church
18444 Old Glenn Highway
Chugiak, Alaska 99567 USA