About Us
http://beamsandbobbins.co.uk/product/spiritboard-key-tidy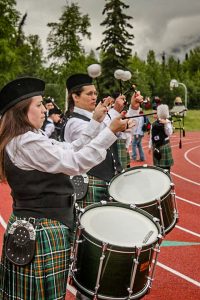 Alaska Celtic Pipes & Drums were formed in 2005 by a group of Anchorage area veteran pipers and drummers who wanted to bring piping and drumming to areas beyond the metro Anchorage area, namely the Chugach and Mat-Su Valley areas.
Initially going by the name Chugach Irish Pipes & Drums, the founding members of the Band began meeting in May of 2005, and, realizing that most non-Alaskans would not be able to correctly pronounce "Chugach," soon formally changed the Band's name to Alaska Celtic Pipes & Drums. Alaska Celtic Pipes & Drums have since performed, amongst other events, at the Alaska Scottish Highland Games, the Pacific Northwest Highland Games, the Anchorage Folk Festival, the Willow Winter Carnival, the Chugiak 4th of July parade, the Eagle River Bear Paw Festival parade, the Palmer Colony Days parade, Soldotna Emergency Services' 9/11 Ceremonies, the Last Frontier Honor Flight events, the Cancer Society's Relay for Life, school events, graduations, funerals, weddings, as well as other area festivals, Highland Games, and Pipe Band Competitions. We also host various community concerts throughout the year. We continue these services to benefit the great state in which we live.
The goal of Alaska Celtic Pipes and Drums is to promote the great tradition of piping and drumming through music instruction and performance, and to keep it FUN! We also provide educational lectures about Highland dress, instruments, and customs, in addition to our musical performances. Our purpose is the teaching of piping and drumming, free of charge, to anyone, regardless of sex, race, religion, national origin, or age, who is willing to travel to Chugiak for individual lessons, and for regular Band practice at the Our Redeemer Lutheran Church, 18444 Old Glenn Highway in Chugiak, held in a wholesome family atmosphere.
Band Roster
Pipers
P/M Richard Christiansen
P/S Friedrich Christiansen
Carsten Christiansen
Jürgen Christiansen
Doug Studer
Jakob Fultz
Cameron Kelley
Kris Musser
Zoe Brooks
Nicholas Mathis
Brian Gregg
Chrissy Hardman
Jerry Hardman
Amanda Fedewa
Gary Craig
Drummers
D/S Christine Christiansen
Tanya Meyer
Hunter McNatt
Tucker McNatt
John McConnell
Jackie McConnell
Dave Beaulieu
Susie Kobierowski